The Benefits of Embedded Videos
Businesses are always trying to improve their sales funnel, but one component they may not be investing enough in is incorporating embedded videos. In the current state of digital marketing, embedded video is an essential part of business that can set your brand apart and increase revenue.
Here are a few reasons why you should include embedded videos in your sales funnel, from email marketing to landing pages.
If you don't know why video should be a large part of your sales funnel is, I highly suggest watching our video breaking down the video sales funnels.
Simply, you want to attract your audience to secure customer engagement with your product or service. There are many ways businesses can improve their approach to their sales funnel and embedding videos is one effective way. Well-produced video gets the customer's attention, forms a memorable relationship, and, in turn, grows your sales.
Attracting your Audience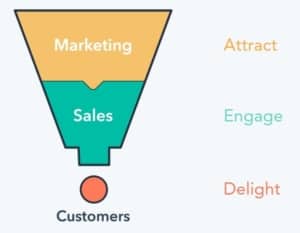 One of the first steps in the sales funnel is getting customer attraction. See the HubSpot funnel diagram, which shows how attracting the customer is the first step in any marketing strategy.
In a study completed by Hubspot, 54 percent of people stated they wanted more videos from marketers. As a business, you want to start by grabbing your audience's attention. There's no better way to do this than by including embedded video in your marketing.
Embedding lets you share your video, or someone else's, and display it on a web page. Statistics show that Google is more likely to list websites that include an embedded video on the first page of results. Embedded videos on a landing page increase conversion rates by 80 percent and encourage customers to interact with your brand.
Increase your website's traffic with relevant videos to boost your conversion rates; these videos should be concise, clear, and engaging. Viewers are more likely to recall information that was presented in a video than in text. Use this to your advantage and make a pitch.
Creative Video Builds Trust and Sales
Videos allow companies flexibility and creativity. Don't just stop with your website — include videos with your email campaigns too. Including videos will increase both email open rates and click rates.
Additionally, videos build a connection and foster trust with potential customers. What better way of sharing what your business or service can do than by giving customers something to see? Seeing the product or service in action can answer potential questions and allows customers to visualize using the products themselves. Furthermore, businesses can use videos to provide knowledge, engage your customers, and retain their interest for future sales.
Incorporating videos on your website is a game-changer for any business. As a starting point, there are three main content ideas that are essential for any business: brand overview, client testimonial, and quick FAQ videos.
JL Video: Creating videos you can feel
Subscribe to our Youtube channel and follow us on Instagram and LinkedIn for more tips on how to incorporate video marketing into your business. We produce engaging, professional, and creative videos that generate revenue and build brand awareness.
Our work has been featured in Forbes, and have created videos for several billion-dollar companies to reach their audience and grow their brand. Schedule your free consultation with our team to begin your video project today!